Working with Robert Henke?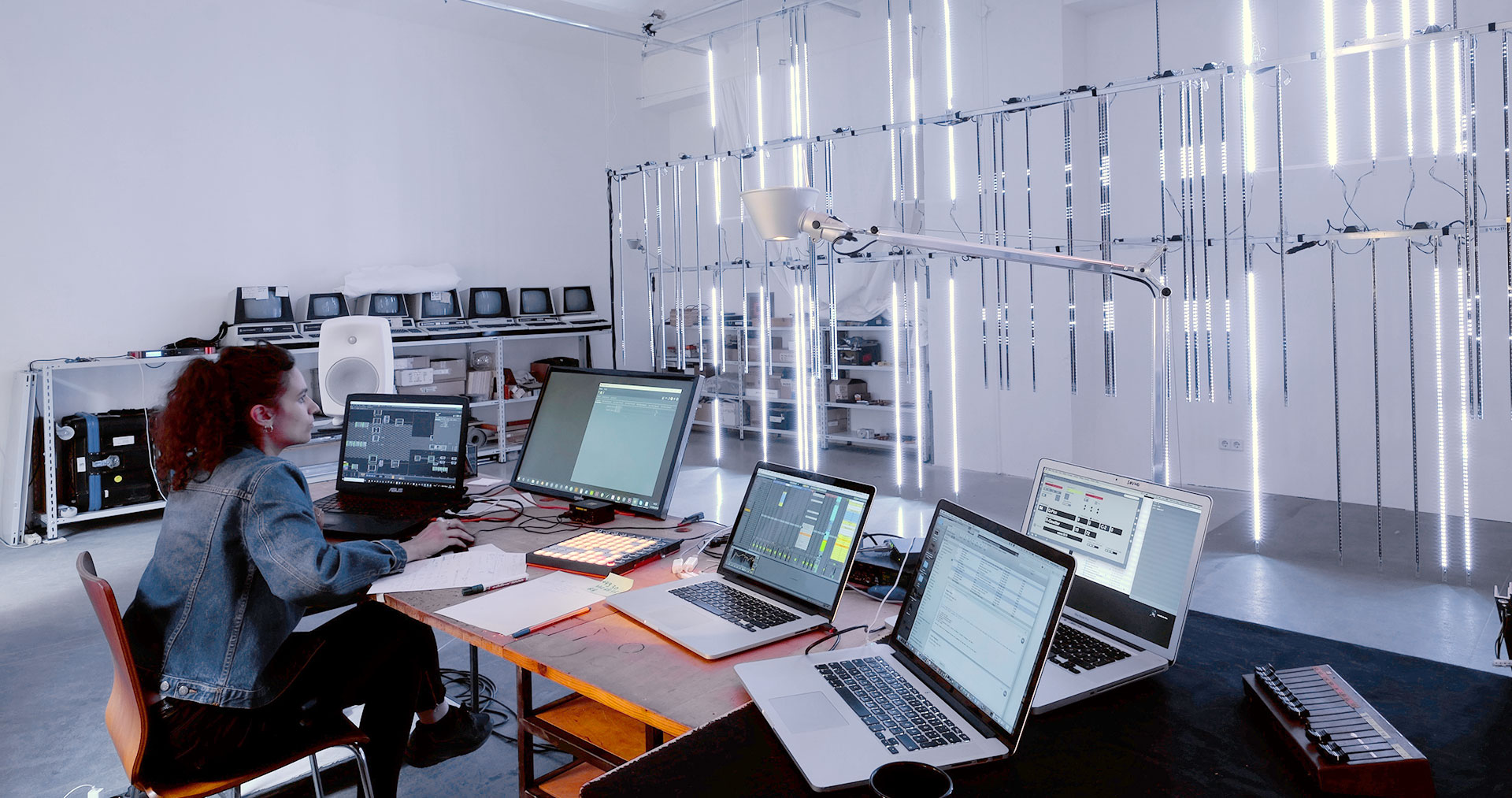 For the realization of performances and installations, Robert Henke operates a workshop space with a small team of people, located in Berlin-Kreuzberg.

Working with us requires a vital interest in Robert's work and related fields of artistic expression, excellent communication skills, and the ability to work self-motivated, precise and with attention to details. You are familiar with Mac OS, and Apple office products (Keynote, Numbers...) You enjoy learning new things in a relatively short period of time and you are precise and thorough in your work. You have fluent English language skills and understand basic German.

We explicitly welcome women and non-binary folks, there is room for you in the field of technology-related arts / arts related engineering.
Technical assistant

We are offering a potentially long term freelance position for a technically minded person. As technical assistant you are responsible for the technical planning of concerts and installations and help with the preparation of new works. You keep equipment in a working state and software up to date, you are communicating with external technical teams and you prepare documentation and manuals. You are involved in the creation / adaption of works, and you potentially travel with the artist to concerts, and for setting up works on site. You enjoy finding ad-hoc solutions for problems, you are able to improvise but you are also very precise and considerate in your work and curious about learning new things when needed.

Ideally you also have some experience as performing audio / visual artist or with work in other artistic production environments.
Intern for DSP hardware project

We offer a very specific internship: We plan to further explore the sonic capabilities of real-time 'DSP' using 6502 CPU based signal generation in conjunction with an 8 bit DAC based 'voice board'. The basic technology has been developed in the last few years for the CBM 8032 AV project.

There is still much to discover, and it requires the realisation of a new version of the existing voice board, mainly as an extension / completion of the Firebird computer system. The aim is to make this type of sound generation available in a small system which can be used on stage / studio.

We offer a three month internship for a student with experience in electronic hardware projects (e.g. PCB design with KiCAD or EAGLE, analog circuits, digital logic, prototyping, soldering). The scope of the internship is assisting Robert Henke with the development of that new DAC / voice board, from breadboard prototyping to PCB design, testing, and fabrication of the final version. If time permits this project can also include to the development of new sound generation algorithms running on the 6502.

Ideally the internship starts in summer 2023. A later starting point is possible.
General internship opportunities

The work of Robert Henke is very technical, exploring the complex space between artistic creation and engineering.

A lot of the things we do these days revolves around a mix of hardware development and coding, related to the ongoing CBM 8032 AV project, around updates of existing laser installations or the creation of new ones, or about other creative fields of computation. To successfully work with us, basic knowledge either of MaxMSP, C, C++, or hardware development is necessary.

We offer the opportunity to gain deep insight in every detail of the daily work on all levels: How to solve creative, technical, logistic and other problems? How to be pragmatic? Where to make compromises and where to only accept the perfect solution? How to find simple solutions for complex questions? How to discuss art, how to approach technicians, promoters, curators? How to know when to water the plant in the kitchen? There is a lot to learn and experience for an open mind.