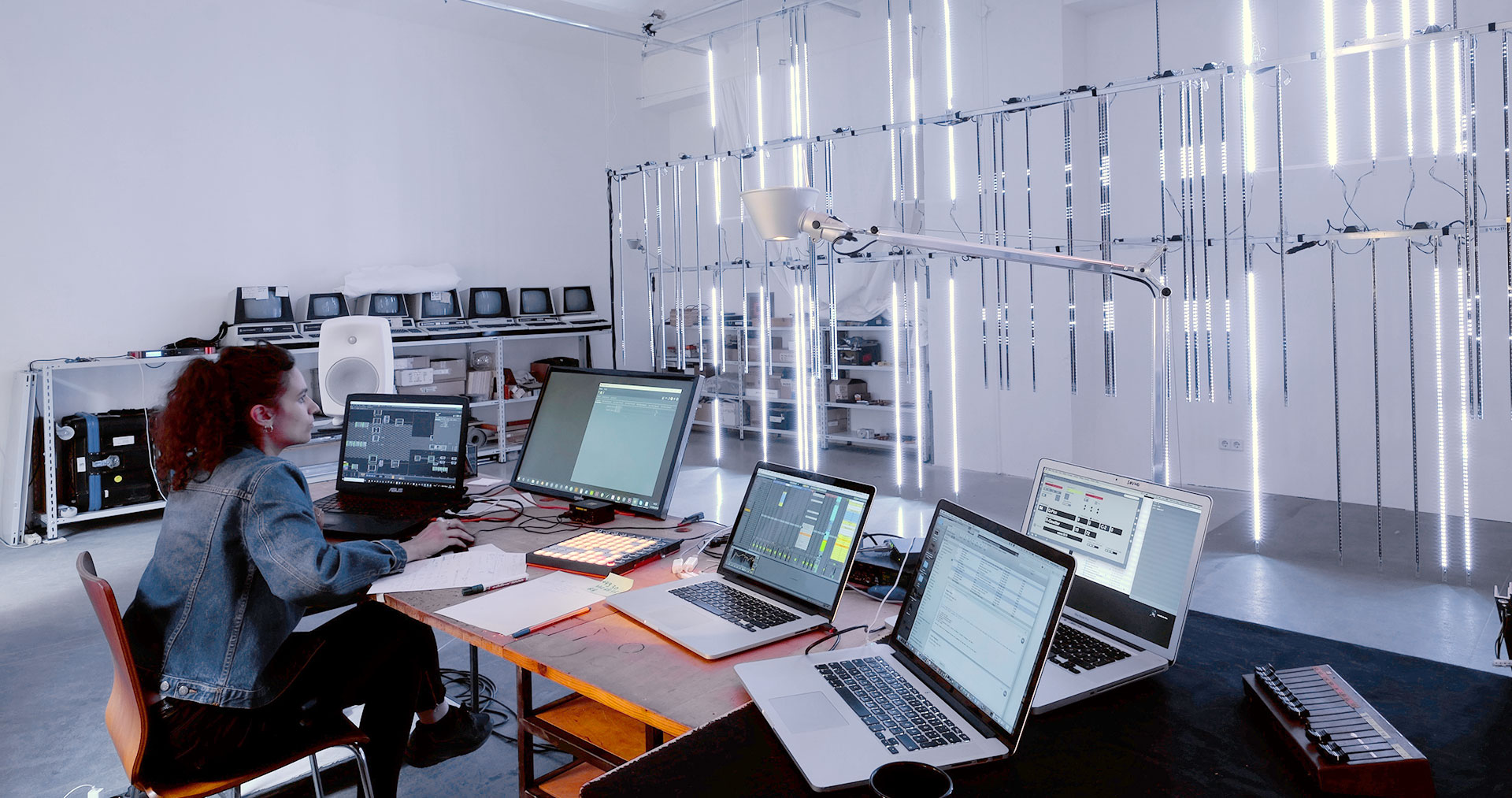 About SRH
Studio Robert Henke (SRH) produces the installations and performances of the artist. We are a small team located in Berlin-Kreuzberg.
Working for SRH requires a vital interest in Robert's work and related fields of artistic expression, excellent communication skills, and the ability to work self-motivated, precise and with attention to details
.
What SRH offers is a very close insight into artistic practise and the technical and administrative processes behind.
Every project creates new challenges, tasks, routines and insights. Roles change and adapt to reflect new necessities and desires. Often internships turn into long term freelance relationships, if beneficial for all involved parties.
We explicitly welcome women and non-binary folks, for both the administrative and technical positions.
Intern Administration / PR
You contribute to administrative tasks at SRH, including communication with booking agencies, curators, promoters, galleries, shipping companies and artistic collaborators. You help managing the schedule of the artist and the team, you assist in travel planning, shipping of equipment, and maintenance and improvement of the office structure. You work on the public presentation of the artist online and in print, and you are involved with the administration of works in progress. You are familiar with Mac OS, you enjoy structured work and process oriented thinking. You have fluent English language skills and understand basic German. Video editing skills and interest in social media desirable.
Location: Berlin
Period: 3 months
positions open fall 2019 and beyond
Intern Tech
You support the tech team at SRH with technical planning of performances and installations, working on hardware and software, building prototypes and tests, and maintaining and improving the technical infrastructure at SRH. You are familiar with Mac OS and Apple office products (Keynote, Numbers...). To make the internship most fruitful for all of us, we aim for finding interns who can work in a responsible position on a specific project we develop.
For early 2020 we are ideally looking for people with -
experience in hardware design
(soldering, analogue / digital circuits, etc.) -
a solid background in math / physics.
- deeper knowledge of MaxMSP
(e.g. gen~ / codebox, js , jitter) -
experience with LED screens and Touch Designer
You help with setting up installations and performances on site and writing technical manuals and documentation. You help developing new works or improving existing ones. You have fluent English language skills and understand basic German.
Location: Berlin
Period: 3 months
positions open spring 2020 and beyond