audiovisual laser performance [2013,2015]
October 18 2013
Premiere of Lumière I
Unsound Festival
Krakow, Poland

February 19 2015
Premiere of Lumière II
Centre George Pompidou
Paris, France
Lumière is an audiovisual composition for lasers and sound. The building blocks of the piece are a new type of events, a compound of visual shapes and a sonic counterparts. The work is based on hundreds of these audiovisual 'notes', to create a previously unseen and highly synchronized immersive experience. The lasers project on a large screen, partially obscured by a wall of fog, which also makes the intensive beams of light visible in the air, connecting the lasers in the back of the room with the front, forming fragile temporary objects above the audience. The special quality of the laser light allows to combine complete darkness with moments of extreme brightness, pure white with intense saturated colors and precise movements with complex organic shapes.
Lumière is a long term artistic research project, exploring syntax, meaning and narration within a newly developed audiovisual language (see also Early Laser Tests).
Lumière has been shown at Haus der Kulturen der Welt Berlin, the Royal Northern College of Music Manchester, Teatro della Tosse Genoa, the Centre Cinema Imperial Montreal, the main concert hall of the Barbican Centre London, Teatro dei Rinnovati Siena, Palais des Beaux-Arts Brussels, STRP Biennale Eindhoven and numerous other places. A complete
list of concerts is here
.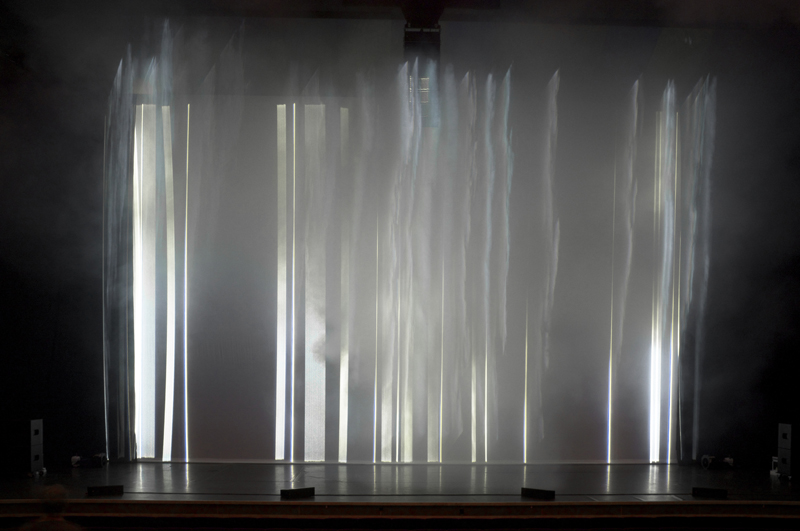 Photo on top: Lumière (I) at Barbican Concert Hall, London, July 19 2014, below: Lumière (II) at Centre Pompidou, Paris.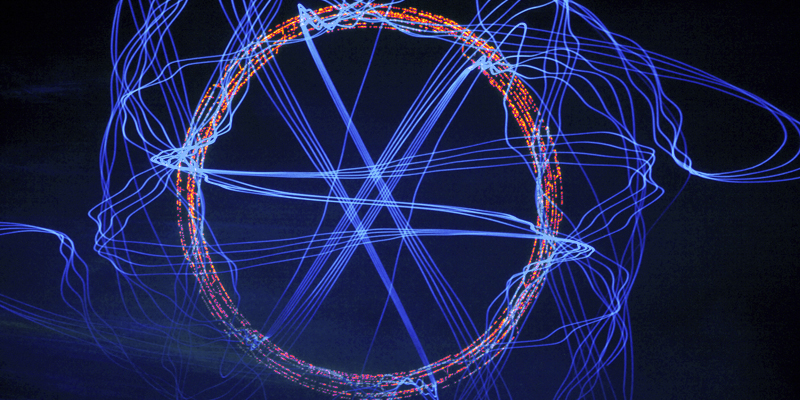 Lumière II is driven by several pieces of software, written by the artist. They allow the creation of rapid successions of vector graphic images, as well as the associated sonic events, driven by a text based scripting language. Details about the technical background can be found here.
The current version of Lumière, (2.1) is a complete re-work of the initial ideas, with a different focus and aesthetics. The first version was based on improvisation with resulting rough and spontaneous gestures. The second iteration is the opposite: a carefully crafted composition which is constantly refined and extended.
The ongoing refinement of the Lumière project would not be possible without the very generous support by LaserAnimation Sollinger, Berlin. [
link
]
Video below from a performance of the first version of Lumière at Donaufestival, Krems, Austria.